Judy Pancoast's Song About Crazy Christmas Displays Sparked Some Videos and Some Even Crazier Attention
By SARAH RODMAN
Boston Globe Staff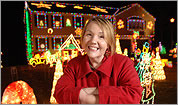 There's one in every town... Sometimes there are several. Perhaps since Thanksgiving you've already driven by one. Or, maybe, it's even your house. You know the one. It's got a blinding array of colored lights, Santa urging his reindeer toward maximum altitude on the roof, Frosty kicking back with his corncob pipe out front, and the first family of Christianity nestled in their shelter on the lawn. That house now has its very own theme song in Judy Pancoast's delightful seasonal ditty, "The House on Christmas Street."
In it, Pancoast, an award-winning children's music singer-songwriter, details all of the above and more over a zippy, holiday-appropriate blend of bright horns and icicle-cool piano. From the "47,000" lights to the Nativity scene to "a couple of carolers singing by the lamppost," Pancoast - whose warm croon recalls Karen Carpenter - covers it all with a tune that you could envision as the soundtrack for the interior of a snow globe.
The Maine native drew inspiration from a particular house during her childhood in Waterville. "They had singing angels and moving Santas. It was not your average Christmas display," she says from New Hampshire, where she now makes her home, which boasts a more restrained spectacle than the one in her song. "We actually used to make it a night to go up there and look at this display. And then through the years I've noticed there seems to be a house like that in every community, the house that goes crazy."
And while Santa may be doing things the old-fashioned way at his North Pole workshop, Pancoast owes the recent, snowballing success of ''House'' to a decidedly newfangled invention.
"This wouldn't have happened without the Internet," she says. "This guy set his houselights to play to my song and somebody put the video online. I didn't find it until October 2006 when my husband happened to Google the name of the song just for the heck of it."
Pancoast was flabbergasted to see a complete stranger's home and, after searching, dozens more twinkling to the beat of her tune. Mainly, she says, "because I wrote and recorded the song in 1998."
The song, available on a self-produced CD of the same name, had gotten some airplay over the years on scattered radio stations and the satellite outpost XM through Pancoast's own marketing efforts. (She would send the disc out in a box of ribbon candy. Oldies 103.3 program director Pete Falconi, for one, liked the song - or the candy - so much that he hired Pancoast as a fill-in DJ.) But once it hit the Web, it went viral and became the toast of those already bitten by the hall-decking bug.
"I didn't know this but these people who decorate the houses, they all network, they're crazy! But in a good way," Pancoast says with a laugh. Some of "these people" congregate at PlanetChristmas!.com, a site for display enthusiasts founded by Chuck Smith.
"It seemed like it was written for us," says Smith, who invited the singer to perform at PLUS - the Planet Christmas Lights Up Symposium - this past August in Gatlinburg, Tenn. "Judy was our main performer, and she just rocked the house."
And "House" is the gift that keeps on giving. Through PLUS, attended by 400 yuletide cheerleaders, Pancoast hooked up with Light-o-Rama, which licensed "The House on Christmas Street" for use in its synchronized lighting systems.
After her appearance, Smith says the Planet Christmas message boards lit up with chatter from people "discussing the song and how they were going to make their display fit the song." He points out, however, "in our world a lot of the really fanatical ones would say 47,000 lights is not near enough."
Indeed, Mark Mousseau won't divulge what his January electric bill is "unless you're willing to pay it" but it's a good bet that the number of bulbs on his house is in the six figures. (You can count for yourself at hudsonchristmas.com.) Mousseau and his stepfather, Paul Roy, are synching the annual extravaganza at their Hudson, N.H., home to Pancoast's song for the second year in a row.
"I just thought it was a catchy tune," says Mousseau, who was familiar with Pancoast and was pleased to see her success at PLUS, which he also attended.
Pancoast enjoys her full-time gig as a children's performer - "to be part of somebody's childhood, that's great" - and has been pleased to watch the Christmas types migrate to her critically distinguished non-holiday releases. But she has high hopes for her nearly decade-old "House."
"My dream would be to have it come back every year,'' she says, with visions of performing it in the Macy's Thanksgiving Day Parade or on "The Ellen DeGeneres Show." "So many of the songs that artists are coming out with at Christmastime now are so depressing and sad. They're nice songs, but at Christmastime I want to be happy."
Which is exactly what the decorators aim for every year, too, Smith says. "I like to tell folks that we're in the memory-making business, because it's our homes that people remember for the rest of their lives."
Pancoast can attest to that. Another piece of the foundation for "House" came from a bleak 1984 holiday season. Divorced, depressed, and drifting, Pancoast was on her way home from work late at night. "It's pitch black, nobody's around, and I come around the corner and there's this house that's all just blasting with lights," she recalls. "I pulled over to the side of the road and I just sat there and looked at it for maybe a half hour, and it really cheered me up. And I went home and the next day I decorated my apartment. It just lifted my spirits."