The Judy Crew is a dance team made up of talented, enthusiastic teens who love kids and love to dance. The Crew accompanies Judy to her larger shows and performs several choreographed numbers while Judy sings. They also perform skits and go into the crowd to dance and sing with audience members. They'll be happy to meet you and sign autographs after each performance.

Send your favorite Crew member an email here.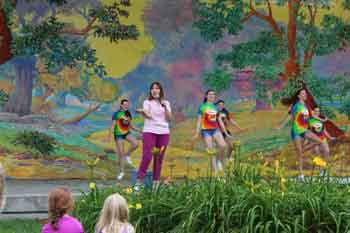 Cookie Dough
The Cat in the Hat
Barbie cruise ship
I would be Superman
The giant Paul Bunyan statue in Bangor, Maine


Vanilla
Pac-Man
Marshmallow the Stuffed Dog
?
Reading a whole book in a day


Moose Tracks
Snoopy
American Girl Doll - Molly
I would be Miss Marvel she is an adventurer and excellent pilot.
the smell of blueberries


Mint Chocolate Chip
Kim Possible
My stuffed Tigger
Wonder Woman
Taking handstand pictures in strange places


Cookie Dough
Art from monsters university
Dolls
Superman
Giant Paul Bunyan in Maine


Chocolate Chip Cookie Dough
Tasmanian Devil
my Littlest Pet Shop
I would want The Force as my superpower
Myself


French Vanilla
Minion Dave
Baby Doll named Buddy
Elasta Girl from the Incredibles
Me!


Moose Tracks
Kim Possible
Polly Pockets
I would be Batman
Baby Goats


Vanilla
Smurfette
My Little Ponies
I would want to be able to fly and to be able to shrink!
Seahorses


French Silk
Alvin the Chipmunk
Ballerina Barre and Mat
Superman
Bigfoot


Chocolate Chip Cookie Dough
Princess Anna
Polly Pockets
I LOVE superman. But if I could have a special superpower I would want to fly and be invisible.
MY BROTHER 100%