Spring and Summer Concerts
It's a brand new year and Judy is planning for her spring and summer concerts now. If your town or library has a summer concert series, be sure to tell them about Judy and send them to this page! If your organization is planning a fair, festival, block party or other celebration, be sure to get in touch with Judy here. She'll bring the fun- and her fabulous Judy Crew- to your event and make it the most memorable party of the summer!
---
Judy's 20th Anniversary in Children's Music is big news!
---
Judy's NEW Release!
Judy's got a brand new song out, and it's sure to make your kids laugh....in fact, it's called "Seven Words that Make Kids Laugh!" and you can find it right here.
Be sure to leave a comment on YouTube and let us know how you like it!
Watch this space for information on how you can help Judy create her newest children's album!
---
A Beautiful Thing
Dear Friends,
I stand for all children, no matter what their ethnic heritage, socioeconomic background or sexual orientation. It pains me to think of the millions of children who are the victim of bullying just because they don't fit "the mold" of the average "normal" person. I believe that early education about differences will go a long way toward eradicating the ignorance and fear that lead to hatred, bullying and exclusion. It's time that gay pre-teens and teens are able to live a life free of pain and fear.
Toward that goal, I have written, recorded and released a new song entitled "A Beautiful Thing." The song tells the story of how I explained to my young daughter back in 1992 that sometimes girls fall in love with girls and boys fall in love with boys. The song was arranged and mixed by Grammy® winning producer Ricky Kej and Vanil Veigas in India, and the video was directed by Nicole Girard of Rowley, MA. I hope you will take a few minutes to watch it and, if you are of like mind, please share it.
Thank you very much for your consideration of this important topic. You will find the video here.
Sincerely, Judy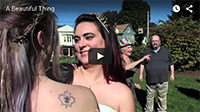 ---
Judy's New Video - Judy stars in a brand new video by up-and-coming New England based filmmaker Nicole Girard, featuring "Better Things to Do" from Judy's CD THE TUNE ROOM. See it first here!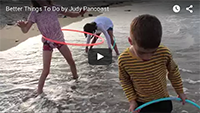 ---
Judy Pancoast - Author!
Judy has written a holiday tale based on her beloved hit, "The House on Christmas Street." It was begun in collaboration with her friend, world renowned author Rick Hautala, who, sadly, passed away in March, 2013.
Judy continued with the manuscript and finished it in 2014. It is now in the hands of a literary agent, but while awaiting word on publication, Judy would like to share the first chapters with her fans. Read it here first!
Chapter One of The House on Christmas Street.
Chapter Two of The House on Christmas Street.
---
---
Judy's Long-Awaited Second Christmas CD!

Click here to Order!
---
Judy Pancoast Shines in Carpenters Tribute!
Bill Copeland Music News

---
Judy's Most Acclaimed CD!
Judy's CD "Weird Things are Everywhere!" has received a GRAMMY® nomination in the category "Best Musical Album for Children." Judy is thrilled to be among the nominees for music's most prestigious award! Grammy® for Best Children's Musical Album
"Weird Things" also received a coveted STAR review (the highest honor) in the August issue of School Library Journal.
And Rave Reviews from Examiner.com and BostonChildrensMusic.com
It's one of Boston Children's Music.com's Top Ten CDs of 2010