Theatres and Performing Arts Centers
BUBBLEGUM POP FOR SWEET KIDS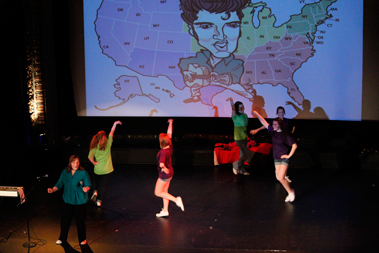 Judy's exciting family concerts are ideal for the theater and performing arts center stage. With her teen dance troupe, The Judy Crew, dancing all over the stage while Judy sings, the Judy Pancoast "Bubblegum Pop for Sweet Kids!" concert fills up the stage with colorful fun. It's an hour-long musical experience that totally involves the audience, featuring costumed characters, skits and the clever, award winning music of Grammy (TM) nominee Judy Pancoast. For the last three songs of the show The Judy Crew moves into the audience to dance up close with the young audience members. It's an event they will long remember!
WEIRD THINGS ARE EVERYWHERE: A READING ROAD TRIP WITH JUDY PANCOAST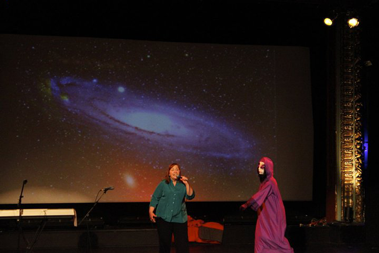 Judy's Grammy(TM)-nominated CD comes to life in a multi-media concert experience that is perfect for the PAC educational concert series for schoolchildren. With the help of The Judy Crew, Judy takes the audience on a virtual tour across the country in search of real-life children's literature connections (like the portrait of Eloise at the Plaza Hotel in NYC and Laura Ingalls Wilder's homestead in Missouri), cool places to visit (National Parks) and just plain weird things! Jam packed with tons of information about the United States, this presentation helps fulfill educational standards for fine arts and social studies, and is so exciting and entertaining that kids have a blast as they learn!
CLOSER TO YOU: A LIVE TRIBUTE TO THE CARPENTERS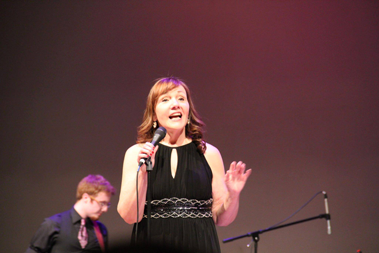 Judy and her talented six-piece band present a heartfelt tribute to the artists who were her major musical influences as a youth. Not an imitation, but a tribute in the truest sense of the word as Judy shares her memories as a die-hard Carpenters fan in the 70s, including spending exclusive time with Karen & Richard in their dressing room before a concert. This multi-media concert also features three back-up vocalists to create the distinctive, beautiful harmonies that made the Carpenters' music so unique and memorable. An intimate evening for the Carpenters fan and music lover that stands out among Carpenters tribute acts because of Judy's personal remembrances and memorabilia,. Find out more here: http://judypancoast.com/carpenters_info.htm
For booking contact us at
(603) 716-3646or judy@judypancoast.com