The House on Christmas Street!
We're excited to announce the publication of Judy's full-length fiction novel based on her song, "The House on Christmas Street!" Judy tells the story of a Christmas decorating enthusiast who moves from Florida to Maine and is eager to set up his outdoor display and see it in the snow. Unfortunately, the home he and his family have purchased is directly across the street from a woman who would like nothing better than to see it shut down completely. Read more about the story, the book's inspiration, and how you may order your own autographed copy (and copies for your family and friends) here!
---
Songs for Teaching
Judy' s creative, clever and acclaimed original children's songs are now available at Songs for Teaching, the website educators turn to for quality music to enhance learning. Here you can find thousands of songs on a variety of topics, songs for holidays, special occasions, and more! Judy is proud to be a part of this vital resource. And it's not just for teachers...anyone can shop there! Check out Judy's music here.
---
Heroes in Blue
We just discovered that Judy's latest Christmas song, "Heroes in Blue," was featured on 102.5 WFLA in Orlando, Florida this past Christmas season. Many thanks to Bud Hedinger and Deborah Roberts! Listen Here.
---
Judy's Latest Video
Judy's got a brand new song out, and it's sure to make your kids laugh....in fact, it's called "Seven Words that Make Kids Laugh!" and you can find it right here.
Be sure to leave a comment on YouTube and let us know how you like it!
Watch this space for information on how you can help Judy create her newest children's album!
---
A Beautiful Thing
Dear Friends,
I stand for all children, no matter what their ethnic heritage, socioeconomic background or sexual orientation. It pains me to think of the millions of children who are the victim of bullying just because they don't fit "the mold" of the average "normal" person. I believe that early education about differences will go a long way toward eradicating the ignorance and fear that lead to hatred, bullying and exclusion. It's time that gay pre-teens and teens are able to live a life free of pain and fear.
Toward that goal, I have written, recorded and released a new song entitled "A Beautiful Thing." The song tells the story of how I explained to my young daughter back in 1992 that sometimes girls fall in love with girls and boys fall in love with boys. The song was arranged and mixed by Grammy® winning producer Ricky Kej and Vanil Veigas in India, and the video was directed by Nicole Girard of Rowley, MA. I hope you will take a few minutes to watch it and, if you are of like mind, please share it.
Thank you very much for your consideration of this important topic. You will find the video here.
Sincerely, Judy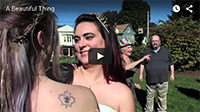 ---
Better Things to Do - Perfect for Red Ribbon Week
Judy's song "Better Things to Do" was written with the students at an elementary school in Maine with help from a grant for projects designed to combat substance abuse. It's perfect for Red Ribbon Week celebrations. Share the video with your students here!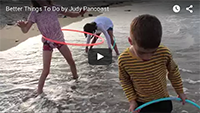 ---
Judy's Most Acclaimed CD!
Judy's CD "Weird Things are Everywhere!" has received a GRAMMY® nomination in the category "Best Musical Album for Children." Judy is thrilled to be among the nominees for music's most prestigious award! Grammy® for Best Children's Musical Album
"Weird Things" also received a coveted STAR review (the highest honor) in the August issue of School Library Journal.
And Rave Reviews from Examiner.com and BostonChildrensMusic.com
It's one of Boston Children's Music.com's Top Ten CDs of 2010